How billionaire Mark Cuban got revenge on DeFi with KlimaDAO
Billionaire investor Mark Cuban capitalized on frothy crypto markets by aping into climate-focused crypto project KlimaDAO and dumping it for profit last year, Protos can reveal. The project's native token KLIMA has since crashed more than 99%.
KlimaDAO entered public crypto markets in October 2021 with big promises, conviction, and persistence. Klima is found on Cuban's list of companies in which he's invested, described as a cryptocurrency backed by voluntary carbon offsets.
Yet it's shrouded in secrecy. The project's founders are claiming that Klima is going to solve climate change, namely by creating a lucrative market for carbon — something united governmental efforts have historically failed to do.
Going by the ancient monikers Dionysus, Archimedes, and Oxylos, KlimaDAO's ringleaders have so far remained anonymous and implied they may consider going public once Klima becomes so big that governments would want to know who they are.
Carbon market theory goes that high prices for unused carbon credits will inspire polluters to curb their emissions, allowing them to rack up potentially valuable tokens which could be liquidated for profit.
In KlimaDAO's case, companies with tokenized carbon credits to spare could palm them off to other carbon producers who might need them.
KLIMA is backed by another token… backed by carbon credits
Klima forked the controversial Polygon-powered OlympusDAO to kickstart the project. OlympusDAO is widely considered something of a Ponzi scheme; Klima similarly boasts a suite of self-referential tokens with precarious values powered by complicated and opaque processes that rely on contributions to its treasury.
KlimaDAO claims that its native token KLIMA is backed by another token called Basic Carbon Tonne (BCT), although their values aren't pegged. Each BCT is meant to represent one metric tonne of carbon (credits), so BCT's price supposedly reflects the market price for carbon ($2.95 per tonne at the moment).
BCT is essential to the KLIMA sales pitch: What gives KLIMA its value? Well, it's backed by BCT held in the DAO's treasury, which the project pledges to never release (it's referred to as a carbon "black hole.")
So, while the tokenized carbon credits are locked in a vault, KlimaDAO uses KLIMA tokens as liquidity. It raises funds by selling Polygon-powered KLIMA (and a raft of derivative tokens) to investors (like Cuban) and other traders.
"Purchasers of BCT tokens are responsible for 'pricing in' carbon to the system," claims the DAO. "Holders of KLIMA have exposure to a new type of money, backed by carbon."
"The cost of BCTs over time will be based on the price of carbon in the market; as demand for carbon reduction at the macro-level increases, and the quality of carbon offset projects increases, BCT price will also increase."
BCT holders can "bond" their BCT with the Klima protocol in exchange of KLIMA tokens. The swap can be more clearly described as exchanging BCT for KLIMA in a delayed process calculated by a formula which is decided by the DAO.
The formula is intended to reward BCT holders (and thereby carbon offset collectors) with KLIMA at a discount, incentivizing participation. Those staking KLIMA are rewarded against the number of BCT tokens being transacted; as the ecosystem becomes more popular, so too should the staking rewards increase.
All this means that BCT is vital for KlimaDAO. The project raises money by selling KLIMA tokens to crypto speculators in exchange for BCT. Its partner Toucan Protocol sells the BCT for various cryptocurrencies.
KlimaDAO is in the business of collecting as many tokenized carbon credits as possible (in the form of BCT) to lock inside its black hole (FTX billionaire Sam Bankman-Fried might refer to this as a "box").
KLIMA is really a secondary token within the scheme that allows those who've bought tokenized carbon credits (BCT) to further profit from their asset by staking, trading, and otherwise liquidity mining the KlimaDAO-slash-Toucan ecosystem.
Similarly to other "rebase" DAOs and Olympus forks, KlimaDAO has offered absurd yields, like 35,000% annual percentage yield (APY) last November. These rewards are paid in KLIMA, which makes both KLIMA and BCT's price integral to Klima's viability.
It's these kinds of tokenomics that Klima hopes will inspire the world to hoover up as many BCT tokens as possible.
After all, BCT tokens are meant to be real, verifiable carbon credits. If we take them all off the market then their price will go up — not just BCT but KLIMA too.
Toucan Protocol was once a Gitcoin project on Ethereum
BCT is a carbon pool maintained by Toucan Protocol, the self-styled "carbon blockchain bridge" through which it tokenizes carbon credits and sells them as BCT.
Toucan Protocol says that KlimaDAO was its launch partner; the two tokens are intrinsic to each other's value and began trading within days of one another.
Toucan Protocol was born out of an Ethereum project called CO2Ken (See-Oh-Toucan, get it?), spearheaded by crypto entrepreneurs Raphaël Haupt and James Farrell under Berlin-headquartered Curve Labs. It raised about $2,000 worth of Ether via Gitcoin before pivoting to the Polygon network and BCT.
Before BCT was used to back KlimaDAO, CO2Ken aimed to offer Ethereum users a way to "directly offset their carbon emissions" and create a "carbon negative Web3."
"A dApp owner can offset emissions associated with their smart contracts' execution, offering their users 'green smart contracts'," reads its old GitHub page.
"Our Solidity modifier can be integrated to any smart contract to calculate and automatically offset the emissions associated with its execution, and a JavaScript API allows dApps to interact with our smart contracts to offer their users carbon offsetting."
CO2Ken promised to buy carbon credits certified by long-serving non-profit Gold Standard, while Toucan Protocol says it currently purchases carbon credits via registry service Verra with hopes to start acquiring them via Gold Standard in the near future.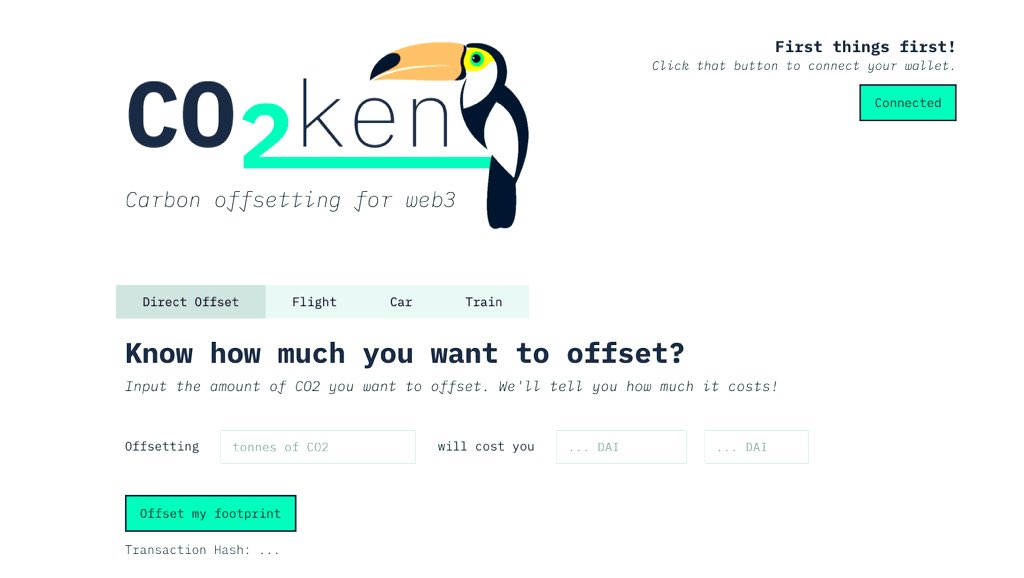 It must be stressed once more that BCT is precisely central to KLIMA's value proposition and overall utility. When Cuban says that he's interested and invested in KlimaDAO, that belies him to actively participate in BCT markets.
KlimaDAO states that it partners with Toucan Protocol but falls short of explaining any details about the relationship, particularly whether each team is invested in each other's token, and how those potential assets are distributed and will be distributed in the future.
"Toucan's infrastructure brings programmable carbon to Web3, unlocking its potential for a regenerative economy," says the firm on its website.
And Cuban has done exactly that. Protos analyzed Cuban's Polygon blockchain data and calculated the Mavs owner has:
traded more than $8.7 million worth of KLIMA and BCT to date,
came out $1.8 million ahead on those trades (mostly via SushiSwap),
and at most had $3.63 million worth of the tokens staked inside various protocols (currently $1.58 million).
While Toucan Protocol certainly appears to be a real startup, it's not clear if any actual companies exist in relation to KlimaDAO.
The only company which has Klima in its name as listed by the SEC is Klima Capital, an investment fund focused on carbon markets, which reached out to Protos to confirm they're not affiliated to KlamaDAO.
Protos has reached out to Toucan Protocol and its founders to learn more about its business structure and will update this piece should we hear back.
How Cuban profited from KlimaDAO
Cuban is still promoting KlimaDAO, even after KLIMA's price is now worth less than $15 after trading beyond $3,700 at its peak last October.
His most recent statements, in December, coincided with a media blitz informing the public about KlimaDAO and claiming it had amassed 17 million carbon credits with a purported value of up to $90 million (BCT's market cap is currently around $56 million).
KlimaDAO says it helps tokenize those carbon credits in the form of the Base Carbon Tonne (BCT) digital asset and locks them in its treasury. It's not clear how much the team paid for its tokenized carbon credits. The statement was reproduced in crypto media here and here and even in the Wall Street Journal.
In KlimaDAO's treasury they will stay — the idea being that taking carbon credits off the market inevitably corners the supply and drives up demand. Detailed plans for crypto raised by selling KLIMA in exchange for BCT haven't been made public.
All this is meant to pump the price of KlimaDAO's native token into oblivion and make us all very green and its backers ultra-rich. As always, Cuban's crypto investments are widely promoted by the press with no questions asked.
The press also gave no details of Cuban's involvement and investment in KlimaDAO other than his claims that he supports Klima and the idea of carbon offsets, and is buying $50,000 in carbon offsets every 10 days and would like to do more of the same with KLIMA.
Before launch, KlimaDAO raised money by selling "pre-Klima" tokens (pKLIMA) to early backers, which can be gradually exchanged for 'real' KLIMA tokens as vesting schedules tick over.
One of KlimaDAO's managers, who goes on Discord as tigerlily (tigerlily#2048), explained to this correspondent verbally in their Discord's "clubhouse" that Cuban invested $5 million into KlimaDAO before it was listed on exchange. Cuban paid $1 for each pKLIMA token.
Cuban received 5 million "pre-Klima" (pKLIMA) tokens just one day before KLIMA opened trade on October 19.
Read more: [DAO leader causes cascade across 'rebase' tokens after $11M dump]
Exchanging pKLIMA for KLIMA can only be done after "bonding" an amount of BCT tokens to the protocol — a fanciful term within the needlessly complex Klima ecosystem that describes staking tokens to receive another.
This makes sense, considering KlimaDAO's claim that KLIMA is backed by BCT; so when new KLIMA is eked into the system there must be new BCT flowing into the treasury.
Those specifics of Cuban's involvement in KlimaDAO are not yet reported. I was also able to confirm via tigerlily Cuban's Polygon wallet, which Protos has studied to determine exactly how the billionaire's Klima escapades have played out.
In total, we found Cuban has only ever spent $420,000 worth of cryptocurrency to directly acquire KLIMA but:
redeemed $2.58 million worth of KLIMA by contributing $1.14 million BCT,
exercised $1,600 worth of pKLIMA with $9,300 in BCT to receive $3.7 million in KLIMA,
and generated $4.73 million worth of various cryptocurrencies by selling KLIMA.
Cuban could produce so much crypto by selling KLIMA because of how early he was able to start exercising his pKLIMA tokens. He exchanged cheap pKLIMA and BCT for very expensive KLIMA when the token was at its all-time high.
One particularly profitable transaction stands out. On October 28, Cuban sent 845 BCT and 845 pKLIMA to the KlimaDAO treasury with intention to redeem an equivalent amount of KLIMA. BCT traded for $5.21 at the time, so Cuban's 845 BCT was worth about $4,400.
Cuban received 845 KLIMA for redeeming the BCT via KlimaDAO's 'carbon black hole.' But KlimaDAO hype was at its highest point; KLIMA traded for $2,883 at the time, valuing the KLIMA he received at $2.44 million. This profitable redemption process was instantaneous.
On average, each KLIMA token Cuban exercised or redeemed was worth $628. He paid just $1 for each pKLIMA token (to exercise) and $7.40 his BCT on average (although he still has lots of liquid BCT to exchange).
Cuban has cashed out his KLIMA for an average price of $1,635 (14,500% higher than its current price), showing that Cuban sold the top in a big way, thanks to his earlybird investment and intense hype surrounding it.
Cuban did buy a lot of carbon credits (and they made him money)
According to the on-chain history, Cuban's 5-million pKLIMA receipt on October 18 was one of the first KlimaDAO transactions ever made. It is not known whether other venture capitalists bought the pre-sale KLIMA tokens, but around 80 other addresses received them.
In total, KlimaDAO minted almost one billion of these pre-sale tokens, with just 15% distributed among addresses not directly related to the project and Gnosis Safe treasuries.
Cuban is one of the largest holders of pre-sale KLIMA tokens, within the top 15 individual addresses. Despite his large media footprint, tigerlily said repeatedly and with great insistence that the Shark Tank superstar has nothing to do with the project and was only an early investor who showed interest.
KlimaDAO also acquired around $300,000 in LBP funding prior to its launch, money it raised by selling its aKLIMA tokens (which could eventually be redeemed for KLIMA) on a bonding curve via bootstrapping platform Copper Launch. The project then used those funds to secure liquidity for its decentralized exchange pairs, like those on SushiSwap.
As previously mentioned, Cuban previously proclaimed that he would be purchasing $50,000 worth of tokenized carbon credits in the form of BCT every 10 days, implying that he would also be bonding them to receive KLIMA.
According to the on-chain data, Cuban has indeed deposited $1.14 million worth of BCT tokens (valued at the time of transaction) to KlimaDAO to date. However, due to BCT's price depreciation (down 66% since November), the value of Cuban's locked BCT is now just $610,000.
This puts Cuban more-or-less on track to have fulfilled his pledge, however his addresses also retain 82,250 BCT ($240,000) tokens that haven't yet been sent to the KlimaDAO treasury.
Being a fork, the tokenomics of KlimaDAO are very similar to OlympusDAO (also down more than 90% since its first day of trade). KLIMA holders are decentivized to simply sit on their tokens, given that the supply is inflationary according to a formula decided by the DAO itself.
Facing never-ending and ever-changing inflation, KLIMA holders are encouraged to stake their tokens for high APYs, paid in more KLIMA. According to the founders, this inbuilt mechanism was supposed to help keep the price afloat by disincentivizing selling.
At around 33 minutes into a recent YouTube interview, founder Oxylos says that the price of KLIMA token doesn't matter because the holder is rewarded with more tokens (which are backed by carbon offsets, so they must worth something?).
That perspective was later contradicted with claims that staking KLIMA isn't supposed to guarantee offsetting the absurd price fall, although it has somewhat in Cuban's case.
So, KLIMA holders can stake their tokens to generate yield. There's around 51,000 wallets with a total of around 58.2 million in staked Klima tokens at the time of writing, although the biggest wallet is KlimaDAO's KLIMA liquidity pool which alone holds over 92%.
This implies just 4.3 million KLIMA tokens have been staked by regular investors, equal to roughly $48.4 million at press time (however if they were unstaked and sold into KLIMA's illiquid markets they would fetch far less).
At most, Cuban had around 1,000 KLIMA staked at its peak last October, on which he was generating yield. That stash was worth around $3.7 million at the time but was eventually unstaked as the price collapsed.
Then, there are around 6,100 wallets with Klima with unstaked tokens (the base KLIMA cryptocurrency). Cuban holds exactly zero of these raw KLIMA tokens but has bought and sold $5.1 million worth of them (again valued at time of trade).
KlimaDAO helped Cuban make up old losses
At this point, it should be noted that KlimaDAO is not Cuban's first foray into crypto trading. He's been dabbing in digital assets for years, and his Polygon activity stretches back to April 2021.
But in particular, Cuban made headlines last July when Polygon-powered DeFi project Iron Finance, in which he'd invested, collapsed — taking the associated value he'd locked inside various protocols along with it.
Cuban's losses due to Iron Finance's poor design were widely reported at the time. Protos can now confirm that Cuban had $1.74 million worth of TITAN staked when it failed.
He also actively traded TITAN on its way up, spending $1.93 million worth of cryptocurrency (USDC and Wrapped Ether) to acquire the doomed token on June 15 — just one day before the bank run occurred.
In total, Cuban:
spent $2.78 million worth of crypto on the token (average buy price $37.40),
sold $1.18 million worth of it (average sale price $0.00068),
to lose nearly $1.5 million with TITAN.
Cuban also bled around $19,000 on the spread associated with quickly buying and selling TITAN's sister stablecoin IRON within one hour on decentralized exchanges. Cuban has traded various cryptocurrencies on Polygon's decentralized exchanges with varied success.
The data shows the investing superstar lost around $16,000 worth of crypto experimenting with QUICK, the native token of decentralized exchange QuickSwap, but generated around $66,000 worth by buying and selling Wrapped Ether.
Considering Cuban made almost $2 million in profit through the intersectional tokenomics of BCT and KLIMA (buying and exchanging BCT for KLIMA to sell), it's clear he's covered his losses associated with Iron Finance.
Zooming out to the whole Polygon blockchain, our analysis showed that Cuban's deposits to Polygon from Ethereum were worth $10.1 million at corresponding transaction times:
$6 million worth of stablecoin USDC,
nearly $3 million in MATIC,
and around $1 million of Wrapped Ether.
He's withdrawn nearly $5.5 million worth of crypto from Polygon, about half of it USDC and the other half MATIC. This means that Cuban's Polygon-bound holdings — both staked and unstaked assets — must be worth more than $4.6 million for his portfolio to be in the green.
The chart below maps Cuban's Polygon portfolio, as based on the on-chain data tied to his known blockchain addresses. Typical explorers value crypto tied to particular addresses but fail to track assets staked in external protocols.
(As previously mentioned, Cuban also bought 5 million pKLIMA tokens for $5 million, which can be exchanged for KLIMA slowly over time. These tokens do not appear on the chart.)
Read more: [Tether Papers: This is exactly who acquired 70% of all USDT ever issued]
Most of Cuban's crypto portfolio is staked. We currently value his total locked assets at around $9.39 million and his unstaked assets at around $3 million.
However, $2.63 million of those unstaked assets (the majority) are Aave collateral tokens representing stablecoin deposits. Most of the remainder is unlocked BCT, so Cuban's liquid portfolio is actually quite small compared to his staked portfolio.
Around $8 million of Cuban's staked crypto is made up of stablecoins and Polygon's native token MATIC (and its Wrapped variant). He's actively earning yield on these holdings, generally through Aave, QuickSwap, and SushiSwap.
BCT accounts for less than 10% of Cuban's total value locked but remains his most liquid crypto on Polygon at this point in time.
KlimaDAO's math doesn't check out
All this begs the question: was KlimaDAO a Mark Cuban rug pull? Did he get revenge on DeFi for the Iron Finance blunder, and under the veil of crypto-climate activism no less?
KlimaDAO seems to be apologetic about the pKlima tokens that have been sold during its bull-run as it was launched, but hasn't gone into many details publicly.
The protocol's pKlima tokens — the ones given out prior to the public launch — were supposed to be unredeemable until a vesting schedule started, but KlimaDAO claimed that a glitch in the system made it possible for investors to redeem their tokens immediately.
"Until the launch of the wsKLIMA [wrapped-staked-KLIMA] token several weeks after launch, there was a minor implementation issue in the pKLIMA contract that allowed for pKLIMA holders to redeem pKLIMA even though they had a greater [percent] supply share than should be allowed."
"The fix was deployed on November 24, 2021 and will gradually automatically correct the issue by preventing further pKLIMA redemption until supply grows sufficiently to bring all pKLIMA allocations in line with vesting limits."
KlimaDAO didn't mention whether Cuban himself was able to profit from the bug. In any case, pKLIMA was part of KlimaDAO's growth strategy: early investors who acquire pKLIMA (like Cuban) can only redeem them if they contribute an amount of BCT (scaled to the supply) to unlock their equivalent KLIMA.
This is another ploy to inspire carbon offset credits to be locked away in a black hole forever.
Cuban has so far only exercised roughly 1,600 pKLIMA. He retains over 4.99 million pKLIMA, which if redeemed for KLIMA tokens that maintain their current price would represent about $56 million.
Apart from the lack of transparency and the mystique behind KlimaDAO, there are also glaring and tangible problems felt by the retail investors who lost most of their money by holding KLIMA too long.
KLIMA must recover more than 33,600% for it to reach its October peak, so holders aren't going to get anything back for their losses any time soon, if at all.
And even if KlimaDAO goes to zero, the holders would still not have any right to receive anything.
Cuban says there's always crypto in KlimaDAO. But will it be worth anything?
When a company goes bust, shareholders have the chance to receive some of the proceeds of the company's liquidated assets after creditors are paid.
In the previously cited interview on Spotify, one of the founders said that in a Ponzi scheme, if everyone sells, you will end up with nothing. But in KlimaDAO, if everyone sells, you can still end up with something as the treasury would be divided to the remaining holders.
Except, KlimaDAO won't really be obliged to pay token holders any of the proceeds from its treasury. Holders simply have to trust that its trusted maintainers will. Cuban has also made the same argument on Discord, describing the treasury as the "Klima Put," insurance on the ecosystem's collapse.
Ultimately, Klima's trio of pseudonymous founders claim they want to save the world through a DAO, and may give the comic feel of benevolent masked-anonymous superhero capitalists: something on the lines of Batman or the Avengers crossed with The Big Short.
And like many other Web3 projects that over-reward early participants with preposterous discounts, KlimaDAO has already generated backer Cuban a small fortune by liquidating just 0.00032% of his overall pKLIMA stash.
But while the billionaire is protected, KlimaDAO's Discord has lately degenerated into a chamber of pain, where investors share the story of their losses and some demand payment from KlimaDAO treasury to compensate them.
Read more: [Let's face it, billionaire Mark Cuban has terrible taste in crypto]
To me, KlimaDAO poses some serious problems. For starters, it has to be said quite clearly, that when one buys KlimaDAO, one isn't buying carbon offsets, but rather tokens which are theoretically backed by crypto-tokens allegedly represented by carbon offset certificates which can not be verified online.
It more resembles a speculative game in which you are dependent on the whims of the DAO, which counts trade-crazy rug pull victims like Cuban. KlimaDAO's biggest sales pitch is not that you will make money out of it, but that somehow you are saving the world from climate change.
KlimaDAO has since been accumulating BCT, with posts suggesting it now owns more than 90% of the token's total supply, which implies speculators must have little influence on the market. It hasn't done much to inspire any price growth.
Some holders have claimed that they could not find buyers when trying to sell KLIMA tokens on SushiSwap, implying that there's no interest in the project of late.
Investors also complain that compensation of KlimaDAO administrators hasn't been disclosed. Presently, KlimaDAO has not sold any of its treasury assets.
In light of the losses suffered by KlimaDAO's retail investors, Protos contacted Cuban to ask whether KlimaDAO required reviving.
"It's still active. It doesn't need to be revived. It has a mission and it is fulfilling that mission," wrote Cuban via email.
Cuban then added that it "really sounds like you have no idea what you are talking about."
All this begets the most obvious problem: KlimaDAO's math didn't work. With a price crash of 99% and a billionaire venture capitalist in Cuban who made money anyway, the numbers seem to be skewed too much to the first entrants while the later entrants are merely liquidity to keep the project on life support.
All this is painfully ironic knowing that Cuban regrets "not doing the math" on Titan. At least he got his revenge with KlimaDAO.
Mark Camilleri is a Maltese historian, journalist, and independent publisher.
For more informed news, follow us on Twitter and Google News or listen to our investigative podcast Innovated: Blockchain City.
Edit 9:42 UTC, July 29: A previous version of this article said it was unclear whether Klima Capital was associated with KlimaDAO. The fund has since reached out to clarify it's not associated.